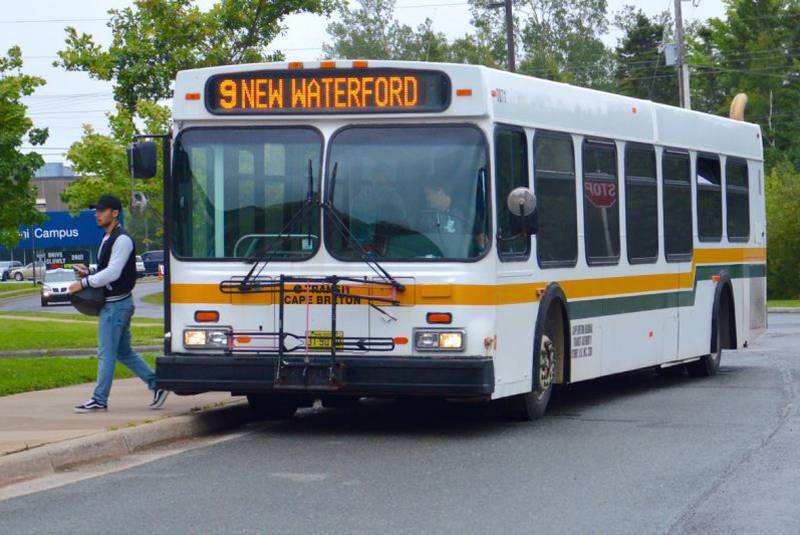 PATTISON Outdoor Advertising and the Cape Breton Regional Municipality partner to provide advertising on transit products, including buses and bus shelters throughout the region.
CAPE BRETON, NS, February 21, 2018 – PATTISON Outdoor Advertising, Canada's largest Out-of-Home advertising provider, and leader in Out-of-Home advertising solutions, today announced a new transit bus and shelter advertising contract with the Cape Breton Regional Municipality (CBRM).
This multi-year agreement will give PATTISON the exclusive right to sell interior and exterior transit advertising space on 18 buses covering 10 routes and on 32 transit shelter faces throughout the Cape Breton Regional Municipality. Advertisers can communicate their message to the public by-way of bus interior cards and exterior options such as the standard King and 70 posters as well as alternative vinyl applications including Headliners, Murals, Ultratails and Superbus wraps. PATTISON's transit shelter coverage provides advertising opportunities in 16 locations throughout the communities of North Sydney, Glace Bay and Sydney.
"We are thrilled to be partnering with PATTISON Outdoor, a proven leader in Transit advertising solutions across the country," said Kathy Donovan, Manager Fleet & Transit, Cape Breton Regional Municipality. Their passion and commitment to our municipality's growing needs, along with their diverse product offering make this partnership a natural step. This is an exceptional exposure opportunity for local businesses, and we are excited to provide residents and tourists a valuable way to learn about the products and services they care most about in their community."
"We are very excited to be able to provide our growing Sydney client base the opportunity to advertise on the Cape Breton Regional Municipalities' transit buses and shelters," said Sherry Kirwin, General Manager, Atlantic Region for PATTISON Outdoor Advertising. "These additions to our current inventory of digital billboards in the city allow advertisers a greater choice in out-of-home options with unmatched cost efficiency. The flexibility in bundling products will only enhance the strength of our advertisers' campaigns by reaching more people, more frequently, and more effectively with their message. The addition of the CBRM's transit and shelter products to our list of Maritime markets give advertisers uniformity in crafting campaigns with the same product mix available in Halifax, Moncton, Saint John and Fredericton."
With the addition of the CBRM's transit and bus shelter contract, PATTISON adds to its growing portfolio of transit systems across the country, which includes twenty-two transit systems in Canada. The agreement also gives the company unparalleled coverage across the Maritime region, with exclusive representation in New Brunswick and Nova Scotia.
-30-
About PATTISON Outdoor Advertising:
PATTISON Outdoor Advertising, a division of The Jim Pattison Group, is Canada's largest Out-of-Home advertising company. With its roots reaching back to 1908, PATTISON has been providing innovative solutions for Out-of-Home advertising opportunities with products ranging from traditional billboards and posters to transit, digital, airports, mall, residential, office, and street furniture. PATTISON also offers Canada's largest portfolio of Digital Out-of-Home (DOOH) advertising properties, through PATTISON Onestop, a world-leader in the design, operation, and advancement of digital advertising networks for the office, transportation, sports retail, and residential environments, and with its experiential/interactive development arm at Fourth Wall. PATTISON is headquartered in Toronto Ontario and includes over 25 sales offices across the country providing advertisers unmatched reach and coverage with products available in nearly 200 markets coast to coast.
www.facebook.com/PattisonOutdoorAdvertising
www.twitter.com/pattisonoutdoor
www.instagram.com/pattisonoutdoor
For more information on PATTISON Outdoor Advertising, please contact:
Sherry Kirwin
General Manager, Atlantic Region for PATTISON Outdoor Advertising
Email: skirwin@pattisonoutdoor.com
Phone: 902-460-5501
https://www.pattisonoutdoor.com/wp-content/uploads/2019/01/PATTISONOutdoor_CapeBreton_Transit_Bus_and_Shelter_Contract_FEB18.jpg
535
800
PATTISON Outdoor
https://www.pattisonoutdoor.com/wp-content/uploads/2021/12/PATTISON_forWebsite-1.png
PATTISON Outdoor
2018-02-21 06:00:41
2019-01-24 15:57:13
PATTISON Outdoor Awarded New Advertising Partnership with the Cape Breton Municipality