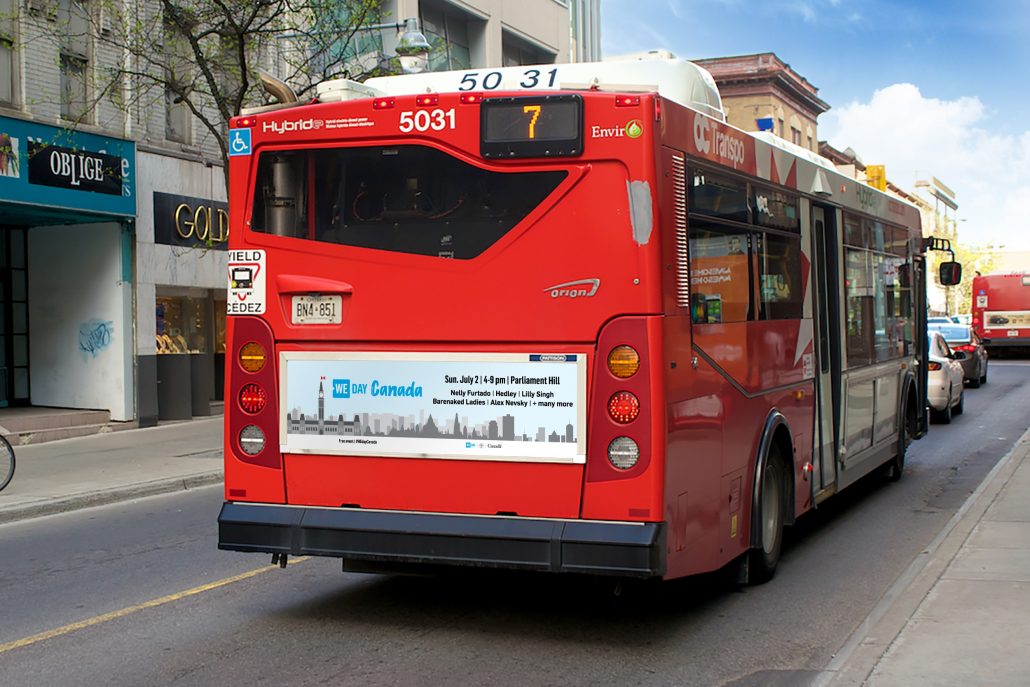 Pictured: WE Day Canada campaign currently running on OC Transpo buses in Ottawa to promote WE Day's takeover of Parliament Hill for Canada 150.
Ottawa, ON, June 29, 2017 – PATTISON Outdoor Advertising and PATTISON Onestop have partnered with WE Day, the world's largest youth empowerment event, to announce and build excitement for WE Day Canada – WE Day's takeover of Parliament Hill, which will close out Canada Day long weekend celebrations on July 2, 2017, from 4 p.m. to 9 p.m.. WE Day Canada ads can be seen across Ottawa, on PATTISON Digital Superboards, digital screens in office towers and residential buildings, and circulating throughout Canada's capital on OC Transpo buses.
"We are so proud to be a long-time partner of WE Day and to help promote this one-time, special event", said Ian Gadsby, Vice-President of Digital Technology at PATTISON Onestop. "Those who have attended a WE Day event in the past will agree that there is no better way to close out Canada's 150th birthday celebration. Canada's future is in the hands of our youth, and WE Day has been inspiring young people across Canada to make a difference in their communities for years. WE Day Canada will set the stage for our country's future by inspiring the next generation of change-makers to build a better Canada and a better world, and we are honoured to be a part of the movement."
WE Day launched their media campaign with PATTISON earlier this year with teaser ads that ran nationally on PATTISON Onestop's Transit, Office and Residential Networks. The ads featured portraits of remarkable Canadians who are building a more caring and compassionate Canada. The portrait series, titled WE are Canada: Future 50, included portraits of Margaret Trudeau, Chris Hadfield, Penny Oleksiak and 47 other remarkable Canadians. The teaser ads started the conversation and built excitement leading up to the Parliament Hill takeover announcement on June 1, 2017. Once WE Day Canada was announced, the portraits were replaced with ads that list the event details, including a few of the names from the star-studded lineup of Canadian celebrities that will perform at the event.
The WE Day Canada celebration on Parliament Hill will feature inspirational speakers, and Canadian celebrities, innovators and trailblazers, including Nelly Furtado, Hedley, Lilly Singh, Barenaked Ladies, Alex Nevsky and many more. For those who are not able to attend WE Day Canada in person, the event will stream live on WE's Facebook page and will be taped for a special CTV broadcast on Saturday, July 8 at 7 p.m. EST.
-30-
About PATTISON Outdoor Advertising
PATTISON Outdoor Advertising, a division of The Jim Pattison Group, is Canada's largest Out-of-Home advertising company. PATTISON provides innovative solutions for Out-of-Home advertising with products ranging from Classic billboards and posters to transit, digital, airports, residential, office, and street furniture. PATTISON offers Canada's largest portfolio of Digital Out-of-Home (DOOH) advertising properties through PATTISON Onestop, a world-leader in the design, operation, and advancement of digital advertising networks for the office, transportation, sports retail, and residential environments, and with its experiential/interactive development arm at Fourth Wall. PATTISON is headquartered in Toronto Ontario and includes over 25 sales offices across the country providing advertisers unmatched reach and coverage with products available in nearly 200 markets coast to coast. PATTISON Outdoor Advertising is the exclusive supplier for advertising on the Toronto Transit Commission's (TTC) transit system.
www.pattisonoutdoor.com
www.facebook.com/PattisonOutdoorAdvertising
www.twitter.com/pattisonoutdoor
www.vimeo.com/pattisonoutdoor
www.instagram.com/pattisonoutdoor
About PATTISON Onestop
PATTISON Onestop is a leader in the sales and operations of Digital Out-of-Home media and works with Canada's biggest brands to create and deliver uniquely engaging experiences. Their Networks provide timely and relevant information in environments traditional media can't reach. Onestop leverages industry-leading technology to deploy digital campaigns in transit, office, airport, residential and retail environments including the PATH, Toronto's underground walkway. Their Digital Networks can help you generate over 12.4 million weekly impressions. Onestop is a division of PATTISON Outdoor Advertising.
www.pattisononestop.com
www.facebook.com/OnestopMedia
www.twitter.com/OnestopMedia
www.vimeopro.com/pattisonoutdoor/pattison-onestop
www.linkedin.com/company/onestop-media-group
About WE Day
WE Day is part of WE—an organization that brings people together and gives them the tools to change the world. A unique family of organizations, WE is made up of WE Charity, empowering change with resources that create sustainable impact, and ME to WE, a social enterprise that creates socially conscious products and experiences that allow people to do good through their everyday choices. The celebration of that change happens at WE Day—inspiring stadium-sized life-changing events that take place around the world. You can't buy a ticket to WE Day—young people earn their entry by taking action on one local and one global cause. WE Day unites world renowned speakers, presenters and award winning performers with thousands of young people and families to celebrate and inspire another year of incredible change. This year alone more than 200,000 young people will come together in 17 stadium gatherings across Canada, the U.S. and U.K. to take part in this unprecedented educational initiative. A movement of 3.4 million young people supporting 2,500+ local and global causes, we've provided more than 1 million people with clean water and built 1,000 schools and schoolrooms overseas, giving more than 200,000 children access to education. WE was founded more than 20 years ago by humanitarians, activists and social entrepreneurs, brothers Craig and Marc Kielburger. Join the WE movement today at www.we.org.
Event Hashtag: #WEDayCanada
Facebook @WEmovement
Twitter @WEmovement
Instagram @WEmovement
Website WE.ca
For more information contact:
Ian Gadsby
Vice-President, Technology, PATTISON Onestop
1-905-282-6871
igadsby@pattisonoutdoor.com
Kendra Thompson
Associate Director, Public Relations, WE Day
1-647-607-9564
kendra.thompson@we.org
Sarah Evans
Manager, Public Relations, WE Day
1-647-462-0654
sarah.evans@we.org
https://www.pattisonoutdoor.com/wp-content/uploads/2019/01/we-day-oc-transpo.jpg
1667
2500
PATTISON Outdoor
https://www.pattisonoutdoor.com/wp-content/uploads/2021/12/PATTISON_forWebsite-1.png
PATTISON Outdoor
2017-06-29 06:00:59
2019-01-24 15:20:19
WE Day partners with PATTISON to announce Parliament Hill celebration in honour of Canada 150