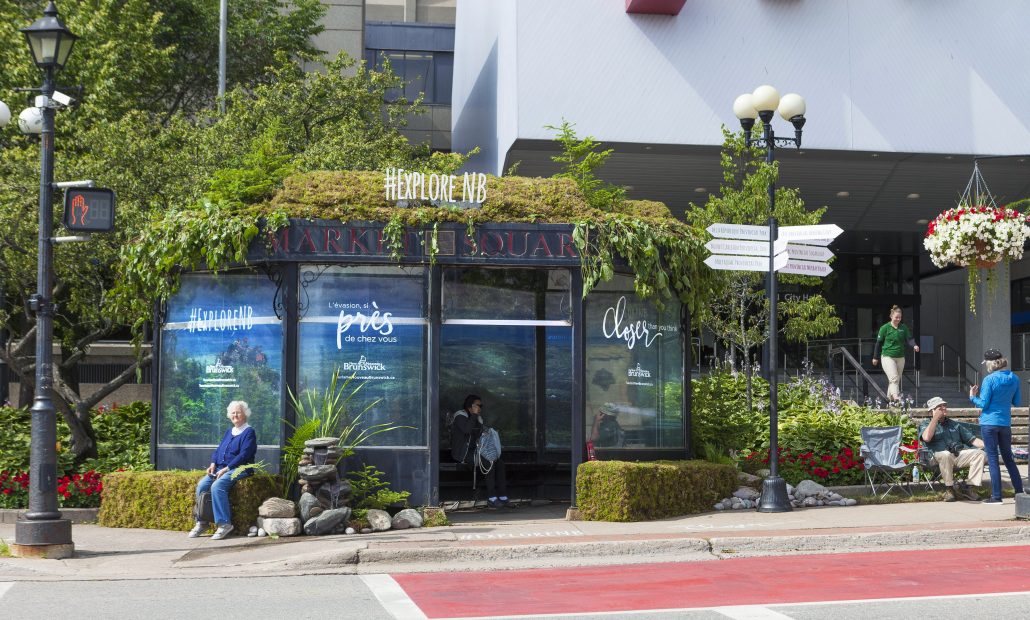 Saint John Transit Shelter Transformed into Park Oasis in New Campaign for Tourism New Brunswick
Transit Shelter in Uptown Saint John, NB transformed overnight into a Park Retreat for Tourism New Brunswick.
SAINT JOHN, NB, September 13, 2017 – PATTISON Outdoor Advertising teamed up with m5 Marketing Communications, Wavelight Productions and Tourism New Brunswick to bring the spectacular scenery of New Brunswick's Provincial Parks to the residents of Saint John for a new tourism campaign for the province. On July 28th, a park oasis was set up overnight at a bus stop near Market Square in Uptown Saint John, where park guides welcomed delighted visitors. The Out-of-Home stunt was part of a new online campaign for Tourism New Brunswick entitled, "Getting Away is Closer than You Think."
Working with the City, PATTISON Outdoor secured the location and city approvals for the innovative execution at the Market Square in Uptown Saint John. Wavelight Productions and Shannon Multimedia Productions were involved in the recreation of the Shelter, as well as in producing and filming a video for Tourism New Brunswick's online campaign. This execution included scenic vinyl adhered to the shelter, custom landscaping, park guides and a sign to bring awareness to the nine Provincial Parks throughout New Brunswick. The online video was pushed out through digital and social media channels and has amassed over 150,000 views to date.
"Using the element of surprise, the Department of Tourism, Heritage and Culture's marketing branch wanted to create a fun and shareable video to build awareness of Provincial Parks as part of a New Brunswick based advertising campaign. The intent of the campaign, 'Getting Away is Closer Than You Think,' is to demonstrate to New Brunswick residents all of the experiences available so close to home," says Jennifer Kenny, Senior Director of Client Service, New Brunswick of m5 Marketing Communications. "We needed a busy street location and a bus stop space that was ideal for transformation as well as for filming. This bus stop fit all criteria." The New Brunswick campaign included fully-wrapped transit shelter locations in Moncton, Fredericton and Saint John and was paired with TV, radio and digital advertising throughout the province.
PATTISON Outdoor is a full service Out-of-Home media company, providing end-to-end campaign support, including planning, management, creative services, production and 24/7 network monitoring.
-30-
About PATTISON Outdoor Advertising:
PATTISON Outdoor Advertising, a division of The Jim Pattison Group, is Canada's largest Out-of-Home advertising company. With its roots reaching back to 1908, PATTISON has been providing innovative solutions for Out-of-Home advertising opportunities with products ranging from traditional billboards and posters to transit, digital, airports, mall, residential, office, and street furniture. PATTISON also offers Canada's largest portfolio of Digital Out-of-Home (DOOH) advertising properties, through PATTISON Onestop, a world-leader in the design, operation, and advancement of digital advertising networks for the office, transportation, sports retail, and residential environments, and with its experiential/interactive development arm at Fourth Wall. PATTISON is headquartered in Toronto, Ontario and includes over 25 sales offices across the country providing advertisers unmatched reach and coverage with products available in nearly 300 markets coast to coast. PATTISON Outdoor Advertising is the exclusive supplier for advertising on the Toronto Transit Commission's (TTC) transit system.
www.pattisonoutdoor.com
www.facebook.com/PattisonOutdoorAdvertising
www.twitter.com/pattisonoutdoor
www.vimeo.com/pattisonoutdoor
www.instagram.com/pattisonoutdoor
For more information on PATTISON Outdoor Advertising, please contact:
Sherry Kirwin, General Manager, Atlantic Region, PATTISON Outdoor Advertising
Email: skirwin@pattisonoutdoor.com
Phone: 902-460-5501
https://www.pattisonoutdoor.com/wp-content/uploads/2019/01/PATTISON_NewBrunswickTourism_TSA_ParkOasis_Stunt_SEP17.jpg
3006
4992
PATTISON Outdoor
https://www.pattisonoutdoor.com/wp-content/uploads/2021/12/PATTISON_forWebsite-1.png
PATTISON Outdoor
2017-09-13 06:00:14
2019-01-24 15:09:44
Saint John Transit Shelter Transformed into Park Oasis in New Campaign for Tourism New Brunswick