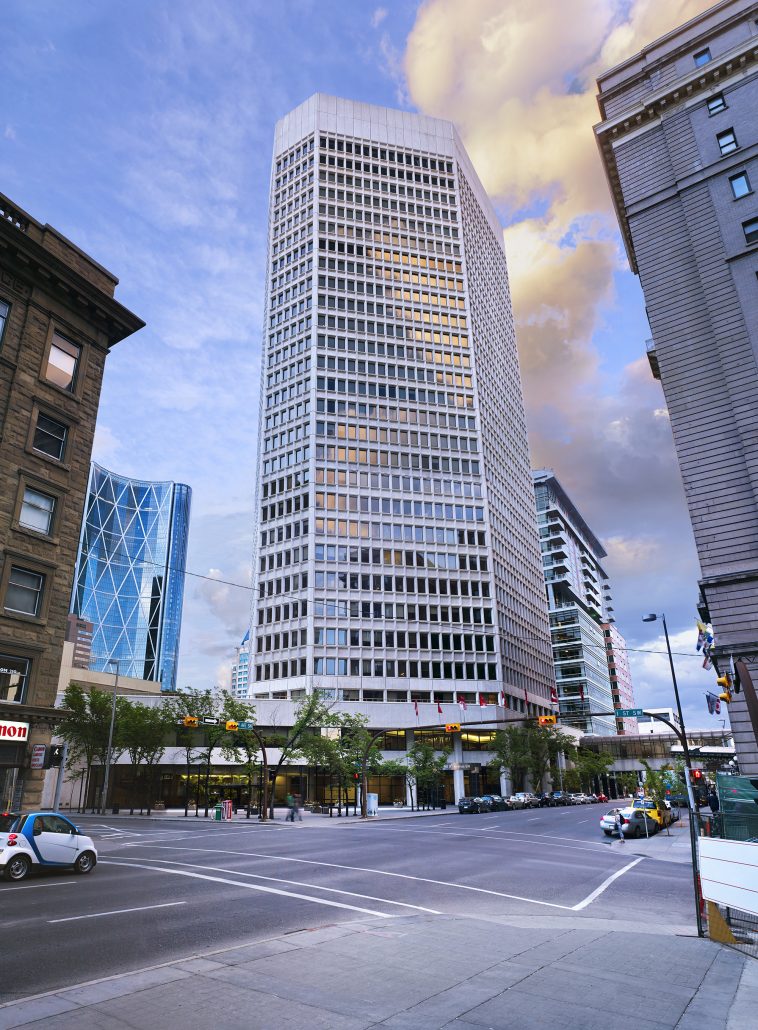 PATTISON continues to expand Digital Office Network with seven new properties in Alberta
Pictured: The Edison tower in Calgary, formerly known as EnCana Place, located in Calgary's downtown core, is part of PATTISON's latest Digital Office Network expansion.
TORONTO, ON, August 24, 2017 – PATTISON, Canada's leader in the sales and operations of Digital Out-of-Home Media (DOOH), today announces the addition of seven new buildings as a part of their Digital Office Network. The buildings are located in Calgary and Edmonton, and their addition brings their total Alberta inventory up to 65 buildings.
Among the seven new properties are The Edison (formerly EnCana Place), the Bell Tower and the MNP Tower, managed by Aspen Properties. The Edison is a 30 storey office tower located in Calgary's downtown core, close to convention space, hotels, shopping and restaurants. The Bell Tower and MNP Tower are located in Edmonton, and their addition to PATTISON's portfolio makes them the sole provider of elevator screens in Aspen Properties office buildings.
"We are pleased to partner with PATTISON – another great Canadian company – and to see them grow in Western Canada and in our assets," said Rob Blackwell, Senior Vice President, Investments & Asset Management at Aspen Properties.
The other properties added to PATTISON's portfolio include Centrium Place, Keynote Tower, Canada Place and Plaza 1000 – four prominent office towers in Calgary managed by Triovest Realty Advisors Inc. The four properties mark the beginning of a partnership between PATTISON and Triovest in Western Canada.
"On Behalf of PATTISON, we are thrilled about our growing partnerships with Aspen Properties and Triovest Realty Advisors. Both companies are focused on providing superior property management services for their tenants and we are delighted that we have been selected as their partner," said Cam Milne, Vice President and General Manager at PATTISON.
PATTISON now offers 45 buildings in Calgary and 20 buildings in Edmonton as a part of their Digital Office Network inventory. In addition to Calgary and Edmonton, the Digital Office Network is available in Vancouver, Winnipeg, Toronto, Ottawa, Montreal and Halifax. The Digital Office Network delivers dynamic content such as local, national and international news, weather, traffic updates and building announcements to business professionals across Canada and generates over 2.5 million weekly impressions.
-30-
About PATTISON
PATTISON is a leader in the sales and operations of Digital Out-of-Home media and works with Canada's biggest brands to create and deliver uniquely engaging experiences. Their Networks provide timely and relevant information in environments traditional media can't reach. PATTISON leverages industry-leading technology to deploy digital campaigns in transit, office, airport, residential and retail environments including the PATH, Toronto's underground walkway. Their Digital Networks can help you generate over 12 million weekly impressions.
About Aspen Properties
Aspen Properties is an entrepreneurial, boutique real estate company that invests in downtown office buildings and executes on value add initiatives. Together with investment partners, Aspen currently owns and manages approximately 2.65 million square feet of office space and 2,327 parking stalls in the cities of Calgary and Edmonton.
About Triovest Realty Advisors Inc.
Triovest is a fully integrated commercial real estate advisory and capital firm with over $8 billion in assets under management and $4 billion in development. They have a 25-year history of helping their clients realize the potential of strategic real estate investment through acquisition, development and redevelopment, leasing and negotiation, and well-timed dispositions. Triovest's approach to commercial real estate investment and management is to continually seek opportunities to improve and enhance properties to achieve their full potential.
For more information contact:
Cam Milne
Vice President and General Manager, PATTISON
905.282.6937
cmilne@pattisonoutdoor.com
https://www.pattisonoutdoor.com/wp-content/uploads/2019/01/the-edison.jpg
2719
2000
PATTISON Outdoor
https://www.pattisonoutdoor.com/wp-content/uploads/2021/12/PATTISON_forWebsite-1.png
PATTISON Outdoor
2017-08-24 06:00:59
2021-03-19 14:42:54
PATTISON continues to expand Digital Office Network with seven new properties in Alberta