Fashion
a Luxurious
Campaign

July 20th, 2023 | by PATTISON Outdoor Marketing
Breaking free of glossy magazines, fashion and luxury brands are now adorning the walls, screens and streetcars of Out-of-Home advertising.
Out-of-Home Advertising (OOH) is one of the most recognized and noticed forms of advertising, boasting an impressive recall with audiences who find these ads to be a natural part of their environment. Great visibility, high-frequency and positive perception, OOH is the perfect place for high fashion and the luxurious lifestyle to mingle with audiences.
"Brands have already made the leap from editorials and are seeing success"
Larger-than-life billboards, classic or digital, provide excellent visibility along major highways and at key intersections to reach hundreds of thousands of impressions a day. Digital boards offer additional benefits with their vibrant LED screens that are easily spotted day or night and can be augmented with smartAD™ Technology. SmartADs allows advertisers to create contextual messaging to update the board in real-time to create a more relevant and engaging experience.
There is a near-unlimited number of ways luxury and fashion brands can create eye-catching and dazzling displays that connect with their audience in multiple ways. Some brands have already made the leap from editorials and are seeing success. H&M partnered with Mugler in early 2023 and the resulting campaign was a major success. Their digital billboards helped to promote the collaboration between these brands and inform consumers of the launch date. This contributed to the anticipation for fashion fans who made their way in droves and lined up for hours to get their hands on these coveted pieces in-store.
"Consider OOH as part of the media mix and utilize its strengths"
Timing is another crucial element to consider when generating success. Staying on top with seasonal trends is crucial. Have those Spring-Summer and Autumn-Winter campaigns ready, or work up the hype for these seasons during their respective fashion weeks. Or work around the calendar as fast fashion brands work to push out new lineups, week after week.
Transit advertising helps move brands through dense urban corridors as much as it branches out to outlying neighbourhoods and difficult to reach suburbs. Exterior transit advertising is effective because these larger signs sit at eye-level. Commuters in traffic will have plenty of time to get acquainted with a Superbus Wrap or a Mural on the side of a moving bus.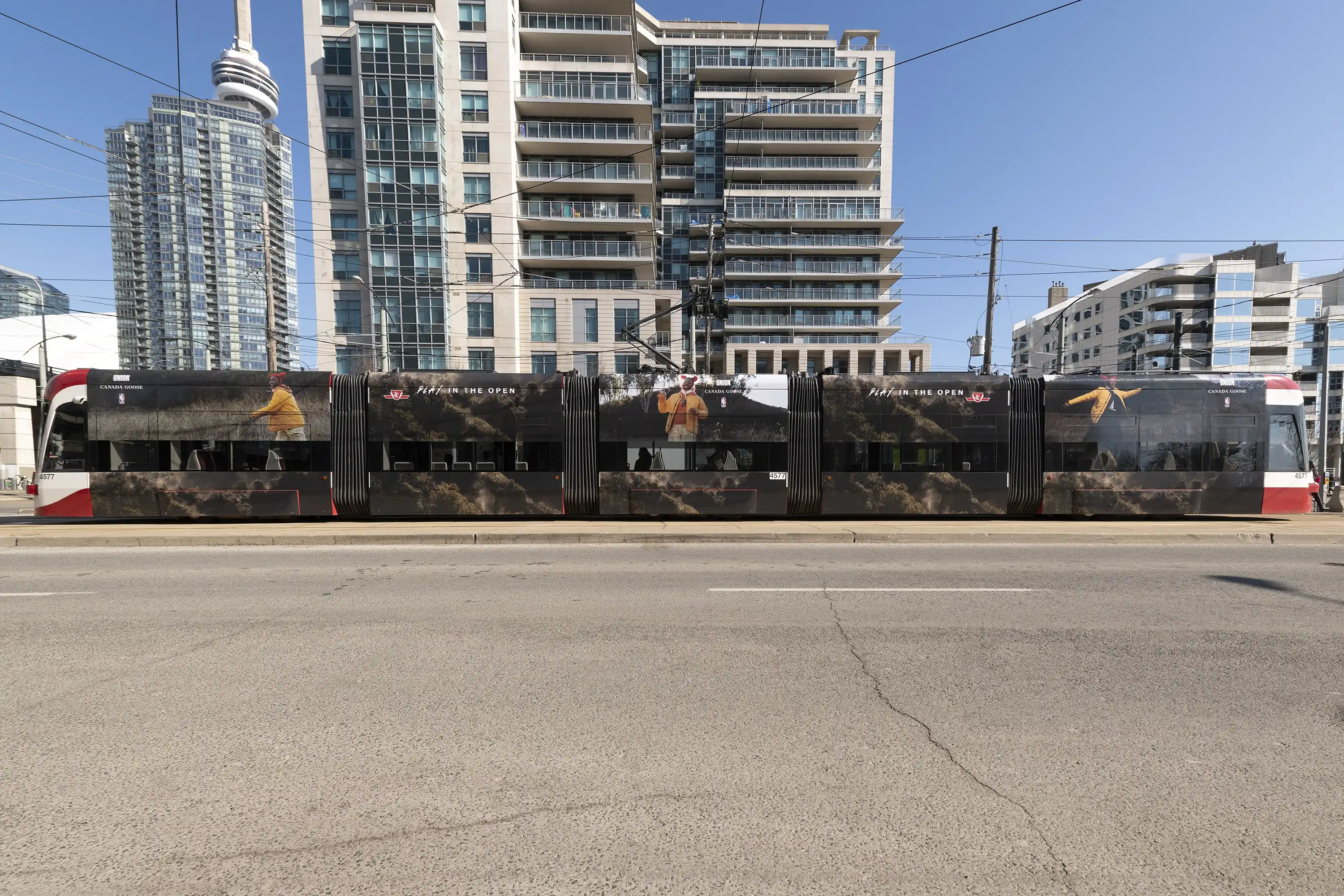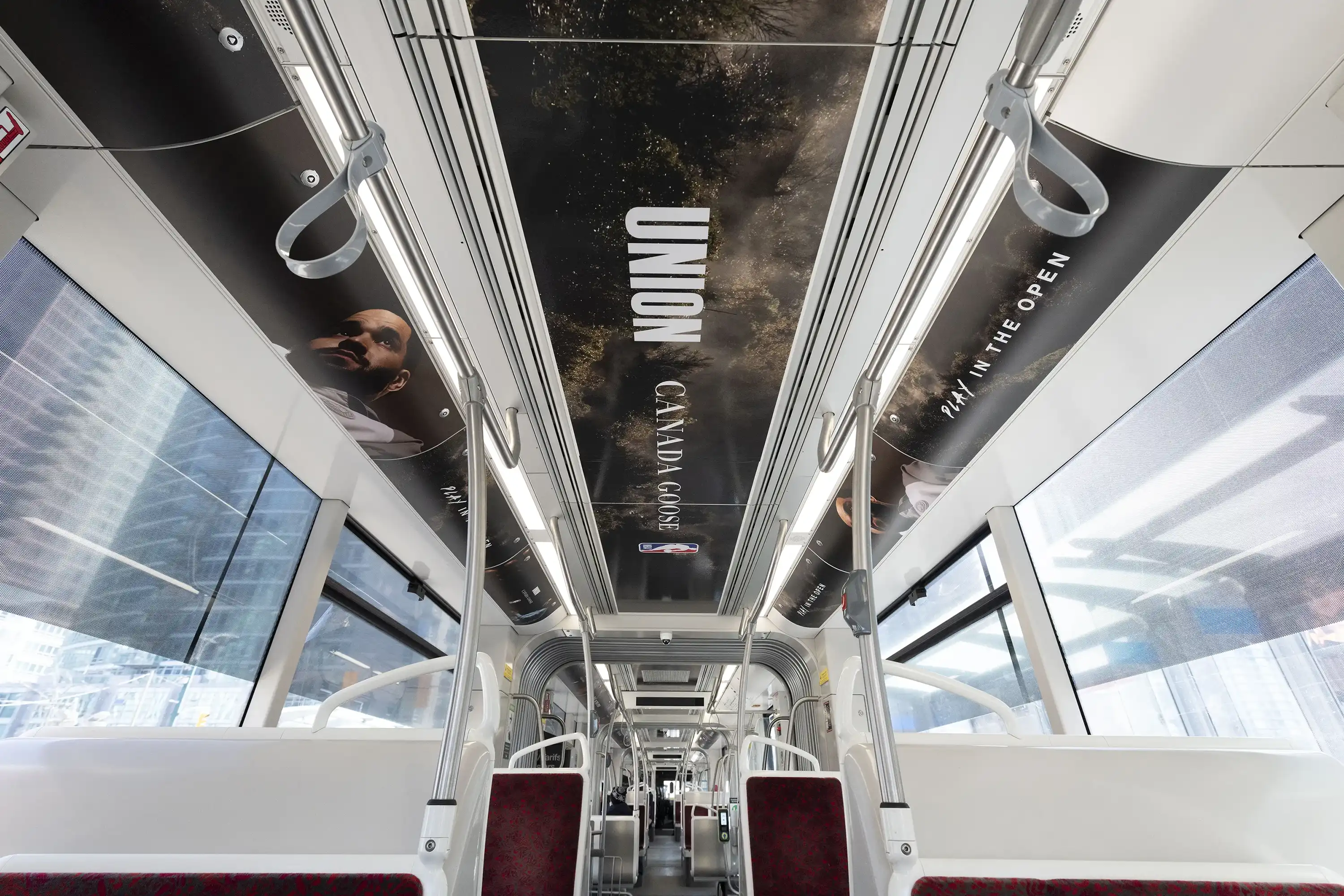 Canada Goose connected with Torontonians with their March 2023 transit campaign. Hopping aboard a TTC Streetcar with a full wrap on the outside and an interior domination, plenty of Toronto residents recalled this campaign. Such visually striking creative was able to urge 73% of those who recalled the campaign to take some form of action. 24% visited a Canada Goose store in person and another 20% followed it up with an online search among other actions.1
"PATTISON gives brands the ability to places ads in premium environments"
Life-sized posters like transit shelter ads are perfect to attract the attention of pedestrians and commuters, especially during the dwell time of waiting for a bus. These posters can speak directly to audiences near them and advertisers can perfectly target key shelter locations to maximize influence near points of purchase.
In the heart of the prairies, Simons was making a splash with its digital campaign where 1 in 3 Edmonton residents recalled seeing the ads and 43% of those took action after viewing it. This campaign made particular impressions with young adults from 18-34 and office workers. It was certainly a conversation piece for 15% of those that recalled it as they discussed Simons with friends and family. 14% made plans to visit the advertised locations and 13% followed it up by visiting the website.2
Advertisers must consider approach and target audience when starting an OOH campaign. For example, PATTISON gives brands the ability to place ads in premium environments like airports. Passengers experience high dwell times and may consider shopping or reviewing brands they see. With the extra time on their hands, travelers can be influenced to interact with these installations. Embedded QR Codes encourage audiences to scan and follow up on a campaign's message. Each campaign is different and will have a vastly unique look both in creative and locations. Consider OOH as part of the media-mix and utilize its strengths to meet campaign goals and objectives.
With premium locations must come premium materials. PATTISON Outdoor continues to work tirelessly with print partners across the country to produce a variety of high-quality products with incredible consistency. Maintaining long-standing print partners helps PATTISON to not only deliver quality posters for clients, but has helped PATTISON to evolve and develop new techniques and offer unique executions. High-end brands can rest assured that their creative will be printed, crafted and installed with care and the utmost quality.
From the classic to the new, digital options for fashion are just as abundant, eye-catching and vibrant with PATTISON displays. Digital screens and boards are placed in highly visible locations throughout urban environments. These gorgeous displays are high-resolution and feature a beautiful range of colours that really pop out. Coupled with smartAD™ technology, fashions brands can make changes to their campaign at any time.
Whether it's for fashion week, the launch of a new boutique or the start of something new, PATTISON Outdoor is ready to help fashion and luxury goods advertisers find the right space in their next Out-of-Home campaign. Check out our award-winning design services and our incredible research team, or reach out to a PATTISON Outdoor representative to get started!
Sources:
PATTISON Monthly Recall Tracker Study, Toronto CMA, March 2023 via Dynata online panel1
PATTISON Monthly Recall Tracker Study, Edmonton CMA, April 2023 via Dynata online portal2