LEARN ABOUT THE LATEST NEWS AND UPDATES ON PATTISON OUTDOOR
Calgary businesses adapt quickly to changing times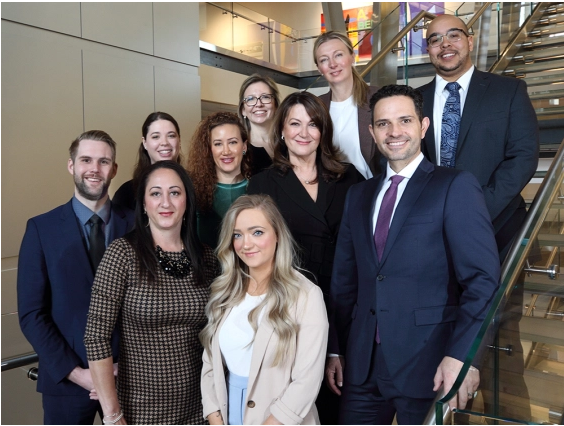 [Calgary Herald] The staff at Pattison Outdoor in Calgary prior to COVID-19 lockdowns in March. Pictured from left, starting in the front row, Harrison Strybosch, Cinnamon Lantz and Heather Gray; second row, Catharine Smart, Jenine Haymour, Nicoletta McDonald and Adam Seely; back row, Melanie Delogos, Magda Bandura and Nick Yates. Photos: Wil Andruschak, Postmedia Content Works

Pattison Outdoor takes the message to the masses
Pattison Outdoor, the leading provider of out-of-home advertising is definitely hard to miss in Calgary and, for that matter, across the country.
In short, it's out there … just about everywhere.
"Pattison is Canada's largest out-of-home provider of advertising," says Nicoletta McDonald, vice-president and general manager for the Prairie region for Pattison Outdoor.
In Calgary, Pattison's portfolio includes billboards, transit, digital office and residential networks and advertising at the Calgary International Airport.
Part of the Jim Pattison Group, which consists of several different business arms including radio stations, car dealerships and grocery stores, Pattison Outdoor is arguably the most high-profile of the conglomerate's companies.
That's simply because its business is all about being seen. In turn, it helps businesses and other organizations — big, small and everything in between — get their messages to their audiences.
"We like to say that out-of-home advertising is the original form of marketing," McDonald says. "People have been painting on surfaces for thousands of years."
But Pattison Outdoor is an innovative marketing organization through and through, embracing advances in data analytics and connectivity. Its digital billboards, for instance, use geo-fencing to detect when consumers with mobile devices pass by the ad. That data then gets parlayed into more targeted marketing through people's mobile phones.
The investments made by Pattison Outdoor in the latest data and technology have proved particularly invaluable during the COVID-19 pandemic.
"We are able to help our advertisers navigate this unprecedented situation with data and technology. We know roadside traffic is down as Calgarians abide by emergency stay-at-home orders. And with our mobile data provider Pelmorex, we can advise our clients on the percentage of traffic decline going by locations and can provide weekly updates," says McDonald.
"This data helps our clients decide which boards to use at this time to communicate messages of support for essential workers or to rally Calgarians to help flatten the curve. Our digital boards have been most useful for these last-minute advertising changes because of their built-in technology.
"Out-of-home is going through a renaissance," McDonald says. "Rather than online being competition, we've been able to work with it in a very successful way."
Still, "there is no replacement for the size, scale, impact and beautiful design" of a massive billboard, she notes.
It's a powerful messaging tool, serving as a key spoke in the marketing campaigns of many of Canada's largest businesses. But Pattison is equally focused on local markets and businesses. In fact, its team at its Calgary office in Inglewood is adept at helping local, small and medium-sized businesses build out-of-home ad campaigns that can blanket the city, or target a specific location.
"These operations really form the heart and soul of what we do," McDonald says.
Another focus for the Calgary team is helping out in the community, any way it can.
"Our clients are the life blood of what we do and we are working hard to find meaningful ways of helping local businesses get through these difficult times.
"Although we've never seen anything like the current COVID situation, we have weathered many storms: During the 2008 financial crisis, the fires in Fort McMurray or the 2013 Calgary Flood, we were able to call on the size and strength of our organization to support our clients when they needed it most. Helping businesses today so they can weather the storm and go on to be partners again on the other side," McDonald says.
From providing digital billboard space for Amber Alerts to supporting cash-strapped non-profits or participating in Calgary's Pride parade, the list of people and organizations Pattison Outdoor supports is extensive.
"It's really important for us to be involved in the community, and supporting the place where we do business," McDonald says. "Our staff are really passionate about investing in the vitality of this city.
"Simply put, Pattison Outdoor is committed to the long-term social and economic well-being of Calgary, whether that's through helping our clients grow, or giving back to those in need."